Introduction
As many of you may have seen, Allphanes has started delivering on its promise to provide rewards to
our best creators. We have started a Monthly Competition starting in October 2022, where the top
three people with the most likes for their post won prizes. This was not the only competition. We will be
having monthly competitions, so you have multiple chances to win. This is one of the ways we want to
boost new creators so that get recognition and rewards for their excellent work.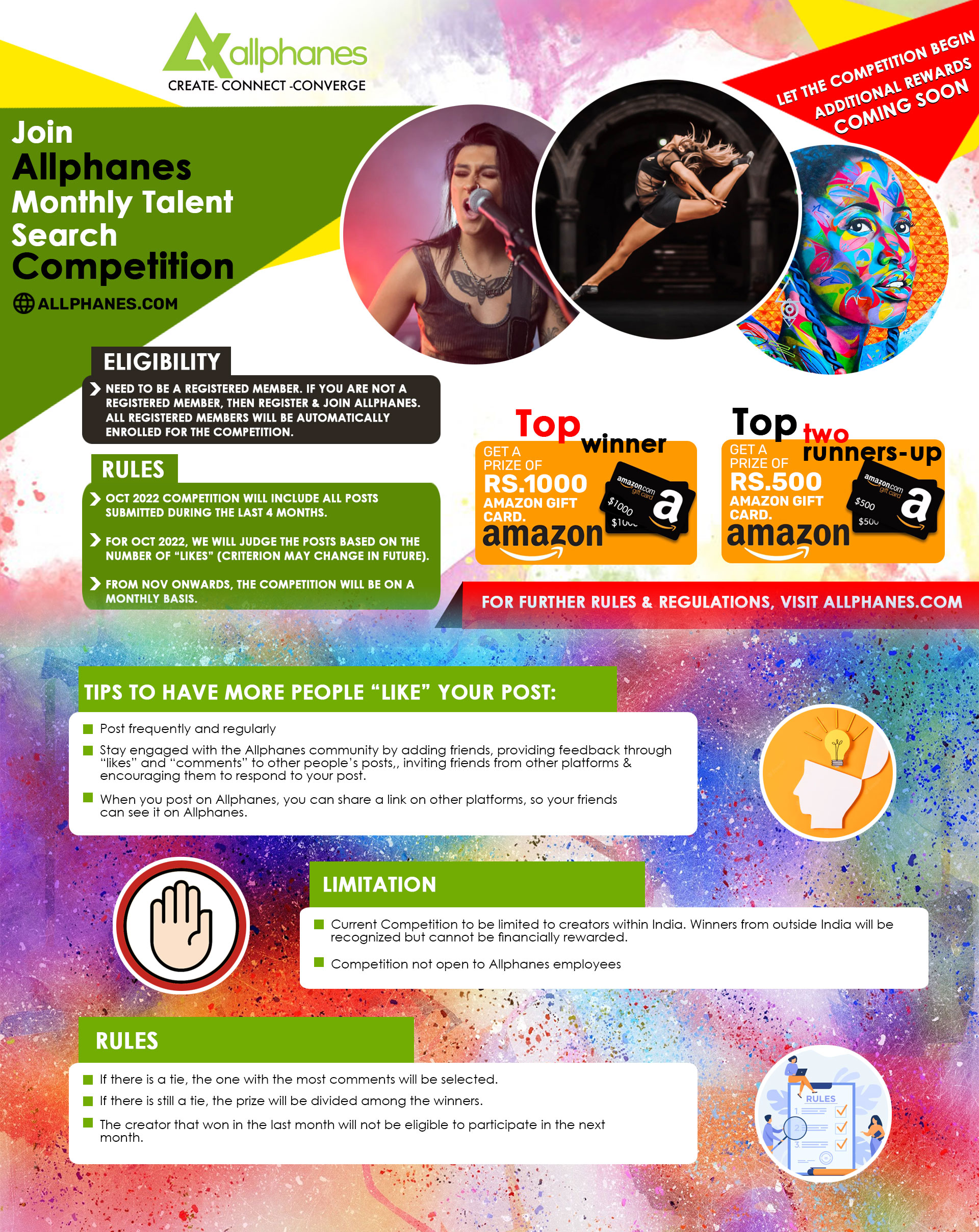 October Winners
Who won the October contest ? They were a diverse group. The top winner was a singer whose
wonderful performance won the most likes. Her video was short, but sweet. However, this was not her
only post. She posted several times over time and provided input comments on the site.
The first runner up for the October Competition posted a pencil drawing/sketch by her son. It was a
beautiful picture of Subash Chandra. Many people immediately liked it. She also posted multiple times
over several days. This enabled people to recognize her.
The second runner up was a photographer. He too posted multiple pictures over time. A lot of them got
likes, but a black and white picture of a boy peeking through the crossed legs of a playmate, with a
delighted smile on his face, won the most likes among the pictures.
We also had a winner from the Netherlands among our winners. Unfortunately since we have not set-up
a bank account for international transactions in Netherlands we could not reward him with a gift card,
but we did give him a certificate. Our friend in Netherlands also posted multiple photos over a period of
time. The one that won the most likes showed a field full of wild flowers. It conveyed a sense of peace
just looking at it.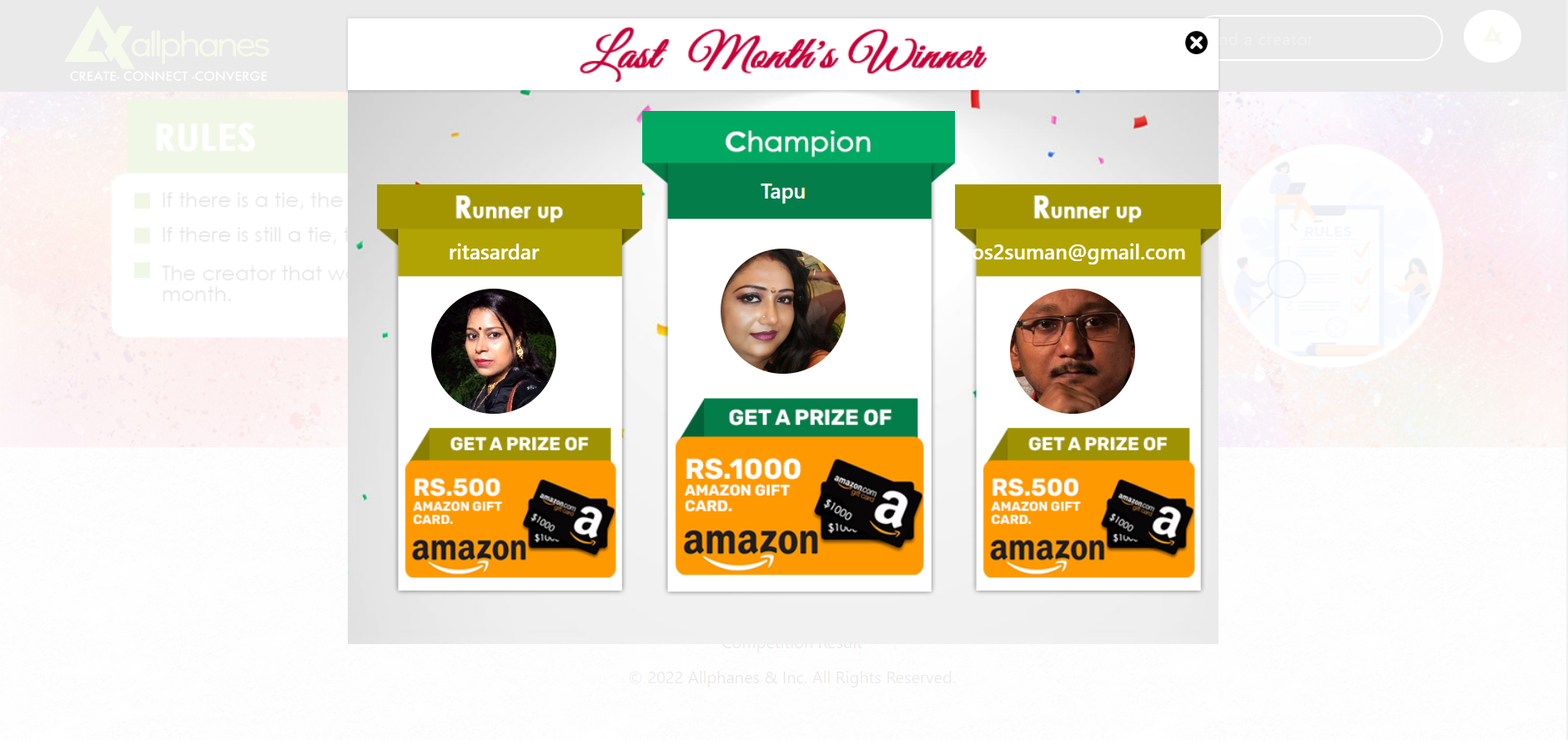 Best Practices
So, you may be wondering what these winners did that enabled them to win the monthly contest in
October ? There are three things they all did :
Post regularly: They posted multiple times over a period of time on Allphanes. This enabled
them to have multiple chances to be recognized. We have noticed that some new members
post something when they join and we really appreciate this, but to increase your chances of
winning we recommend you post something multiple times perhaps once a week at least. It is a
great way to showcase your talent.
Community involvement: When you post several times, the Allphanes community recognizes
you as a good creator and looks forward to your posts and may like the best ones. They also see
when you like and comment on others posts. They appreciate your feedback and recognize your
name. Our social media network of creators is growing rapidly. Staying involved from an early
stage will ensure you get recognized in the community. Start building your network of friends
and followers.
Focus on strength: Our winners focused on posting what they knew they were good at or were
passionate about. While there is no harm is experimenting with new art forms (in fact on
Allphanes we hope you will try what your passions desires), by posting about what you do best
helps you get quicker recognition.
As you can see, there is nothing very difficult about this. All you need to do is visit the site and post
regularly, engage with the community by liking and commenting on others posts and focus on your
strengths.

There are also other things you can do, to increase your chances of winning and recognition. One of the
best things you can do is to invite your friends from other social media platforms to join Allphanes. You
can do this by posting links to your posts on Allphanes or sharing posts on our social media sites on
these platforms. See how you can do that here. Since they are already your friends, you will have a
community of supporters joining Allphanes.

Remember that Allphanes team is working hard to bring you additional ways to earn income from
Allphanes, for the hard work you put in your creations. For example, we will soon introduce a premium
platform that will enable our top creators to earn monthly revenue based on views on the premium
platform. There are also plans to introduce individual subscription platforms as well. Your chances of
success are greater if you can build a community of friends and followers on Allphanes.
Allphanes is just getting started. We are excited to have you because our success depends entirely on
you. We will do all we can to make you successful.